Bay Area man saved by organ donation takes up little girl's cause, raises $1M
OAKLAND, Calif. — Rachel Beckwith was only nine when she was killed in a car crash outside of Seattle. The story of her life made headlines after she died.
Now KTVU has learned how her death helped keep a Bay Area man alive.Mark, who asked his last name not be used, received a kidney from Beckwith."Knowing that a young child passed away and the family made available this organ is just almost too much for me emotionally," said Mark.Less than two months ago, Mark said his kidneys were failing. He'd been on the transplant list for the past five years, waiting for the perfect match.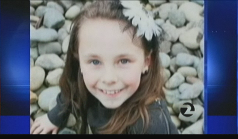 See rest of inspiring story and watch video